I first met Jolanthe  of Homeschool Creations at the HEAV Conference in Richmond, VA during the summer of 2010. As a former teacher and specialist in early learning, Jolanthe had lots of questions about our science programs and how they work. She spent about two hours at our booth, looking at the teacher's manuals, booklets and manipulatives; talking with other parents who came by; and picking up my enthusiasm for Nancy, who is a master educator.
Fast forward, Jolanthe has used Nancy Larson® Science for three years and volunteers to help me at conferences. She'll be joining me this year at the FPEA Conference in Orlando, FL, May 23–25.  Jolanthe is a treasure, dedicated to helping others, creative author, fun-loving mother, and resourceful friend.  Recently Jolanthe wrote  a comprehensive review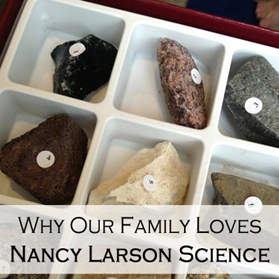 Here are some of the highlights Jolanthe listed.

The science levels in Nancy Larson Science are not intended for grade levels but rather a range of ages. This means that several children can work together on science.
Complete science program that has made science learning fun, manageable, and above all – productive.
Since we started using Nancy Larson Science for homeschool, our science time has literally done a complete turnaround.
Lessons target children with different learning styles.
Lessons are completely laid out for the teacher.
Study skill and reading are integrated into science learning.
Read her complete post. Why Our Family Loves Nancy Larson® Science.